Joshua Matthew Owen
1972-2015
Beloved Father, Son and Industry Leader
Josh, we will miss you more than you will ever know. You lead us with passion, vision and integrity. A beloved father and son, devoted to making a positive impact in every life you touched. The light that shines from within you will continue to guide us, now and forever. We love you Josh. May your soul rest in Heavenly Peace.
by: Randy Gordon, Long Beach Chamber of Commerce
Josh passionately loved his wife, children, friends, family and Long Beach. He will live in hearts of those who knew him forever.
His 43 years were filled with family, love, trucks, advocacy, Long Beach and the evolution of a very good man. There are few people who are liked by everyone who knows them – Josh Owen was one. In fact, you just had to meet Josh to know he was good to the marrow.
Josh was born in Long Beach at Community Hospital to Greg and Valerie Owen. He was raised in Bixby Knolls and Park Estates. Josh began working for Tri-Modal when he was 7 years old. He'd lacquer flatbed trailers with his dad Greg – who needs summer camp when you can lacquer flatbeds! He would sweep freight terminals.
He was a dock worker. Josh was driving forklifts at 13. He was quickly moving up the family company ranks.
He attended Wilson High School and after graduating attended San Francisco State where he got his undergraduate degree in film production. He had originally wanted to make cinema verite documentary films in which San Francisco would lend a much more independent vibe than other film schools. He spent seven years in film and video production until one day a former customer of his dad – and happened to be a Georgia Tech alum – suggested to Josh that he might consider a masters in International Logistics. And just like that Josh was off to Georgia Tech.
In 2000, he returned to the family business as Vice President of Business Development. Again, working his way through the company Josh became President in 2009 and created Ability Tri-Modal Transportation Services. He was a third generation owner of the Owen family of companies as he followed his father who founded Tri-Modal Distribution Services in 1982 and his grandfather, Bill Owen, who started City Transfer in 1947.
In a Chamber newsletter interview just a few months ago Josh said: "I like to consider myself like the character Bandit from the film 'Smokey and the Bandit.' I'm out in front trying to remove the obstacles so that my operations can run as smooth as possible. Which is why I'm so involved with politics and government.
California is highly over regulated and legislated to death. I don't want government getting in the way of running my business. I'll fight the politics and regulations so my operations can focus on servicing our customers." In the same interview, when he was asked about what he liked best of his job he said this: "I like the people I work with. Being a third-generation owner of the company and working there since I was a kid, my employees are more like family to me. I grew up with everyone I work with. So they're more like aunts and uncles and cousins."
Josh was very active and well-known figure in the transportation industry serving on the American Trucking Association board of directors. He served on the board of the California Truckers Association where his father and grandfather served as Presidents. He also served on multiple committees through both organizations: Intermodal Motor Carriers Conference; National Retail Federation; Port Turn Time Stakeholder Group; and Port Competitive Cargo Strategy Committee. As you can hear, he was very involved in his industry.
But it did not stop there. Josh loved to give back to his community – the Long Beach community – through his participation in local nonprofits.
He was on the Westerly School Advisory Board where his kids children attended classes. He also served on several boards and committees at California State University, Long Beach including Associated Students Inc., Operations and Supply Chain Management at the College of Business Administration, the Ukleja Center for Ethical Leadership's Governing Council and the Center for International Trade and Transportation. He once was quoted:
"I love being in the university setting because it is all fresh and open minded. Too often in our professional lives we find ourselves in ruts, habits and can become jaded. The university is an opportunity to constantly hit the reset button and find new ways to see the world."
He was very active in the Chamber's Government Affairs Council for several years before he joined the board of directors of The Chamber in 2010. He became one of the youngest members of our executive board and for two years was our Vice Chairman of Public Policy.
Another passionate nonprofit and favorite of his was serving as a board member for the Fischer House at the Long Beach VA Hospital. And of course, his involvement with our beloved club. Josh joined Rotary in 2002 and was a Paul Harris Fellow six times over. He served as a board member during past President Carl Ann Wylie as well as a Vice President under past President Blake Christian terms.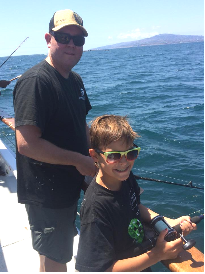 Josh loved playing golf and never met a golf tournament he didn't liked! He enjoyed many water sports from swimming (I saw him many times at CSULB's student recreation & wellness center) to fishing, boating, surfing, body surfing, skiing, and wakeboarding. He was a strong financial supporter to CSULB Men's Basketball and women's indoor and outdoor volleyball programs.
Josh and his wife Tessa funded the Owen's Condition for Tuition scholarship program that gave students a chance to win tuition and encouraged thousands of CSULB students each year to commit to living a healthy lifestyle and attaining their fitness and wellness goals through the student recreation and wellness center. At the center, they even have a room named after Josh and his family.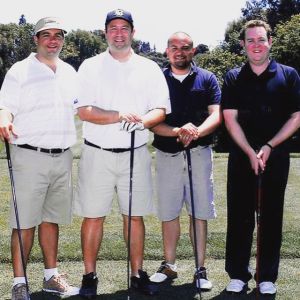 He was married to Tessa for 12 years. They have two beautiful children Brody – age 9 and Piper age 7 (who Josh said was going on 15!)
Both of Josh and Tessa's parents and siblings live within a three mile radius and spending time with family was very important to him.
Reaction of Josh's untimely passing this past week can be described by the many comments that can be gleaned from online and various sites by many who knew him. These included:
"He was an absolute wonderful young gentlemen"

"Deeply involved in the community"

"He didn't have a mean bone in his body"

"He had a contagious energy and vigor for life"

"Allegiance to his friends"

"He had a gentle spirit about him"

"Always generous with his time and money"

"Committed to his family"

"A dear friend and colleague"
When I think of Josh, and borrowing from him by using movie references from earlier, I think of "Smokey and the Bandit," like he said — leading the way; "It's a Wonderful Life," he made many peoples' lives wonderful; "The Longest Yard" casting him with Burt Reynolds yet again, Josh never backed down form something he believed in and he was a fierce competitor; and "Fast and Furious" – where he'd be driving a truck with a lacquered flat-bed trailer, a forklift with a V8, and a 16-wheeler souped-up and scooped Tri-Modal rig slamming down the 710 with his "I got this" and "It's all good" smile.
We're all blessed to have known him and we can take his example of a life lived well and to its fullest. I will close with this – in which one of his dearest friends may have said it best: "The World is going to miss this one."